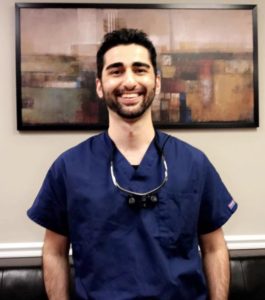 Meet Dr. Saadulla
Dr. Saadulla (Dr. "S") has a special interest in aesthetic and functional dentistry and enjoys transforming every patient he treats.
After completing his doctorate in dentistry, he embarked in Brookdale's hospital program which has a reputation as being one of the most stringent and diverse medically based residencies in the country. There, he treated a diverse population of patients with dental traumas, facial bone fractures, odontogenic infections, and facial lacerations. His expertise and commitment to not just our Northern Virginia patients, but patients abroad have been deeply appreciated. He is involved with the Northern Virginal Dental Society, The Seattle Study Club, and also participates with the American Academy of General Dentistry.
Dr. Saadulla's strong positive attitude, excellent communication skills, keen clinical skills, special patient care all display a commitment to excellence. He is dedicated to providing his patients with the best care void of the influence of third parties.
Meet Lisa – Practice Manager & Administrator
Lisa is the first smile you see when you step through the door. As the manager and treatment coordinator, it is her job to make you love coming to the dentist! She has been serving patients for over 25 years, and as a key player on Dr.Saadulla's team, it is her goal to treat every patient like family.
In her spare time, she enjoys spending time with her two beautiful grandchildren and spunky Godchild. Lisa also relaxes by reading, cooking, and enjoying the outdoors.
Why Choose Us?
Convenient Hours
Accepts Most Insurances
Financing Options
No Appointments Necessary
State-of-the-Art Facilities